Last night as I was fixing dinner, Jessi showed me her Valentines from her boyfriend. She had a swell silk rose that lit up when you pushed the button on the stem and a sweet furry pink plush dog that Jessi promptly named "Pinky". Her boyfriend, Donald, received a heart shaped box of candy and a picture frame that she had made for him.
I asked her where MY Valentine was and she gave me a blank stare. So I tried again asking when was I going to be getting MY Valentine from her. With a shrug of her shoulders, Jessi responded "Tomorrow." Of course I then suggested that she wait until ... tomorrow ... to get her Valentine from me.
That was a no go. Jessi didn't want to have to wait until the day after Valentines Day for her gift. Imagine that.
I think she realized that I was disappointed so she offered up a further explanation.
"It's in Ms. Jackie's area, Mom, I went there today for my women's group and we planted seeds," she said.
And then she wandered off as I finished preparing our meal.
When she returned she continued "I will bring you your gift tomorrow. It's marigolds. That's what we planted today."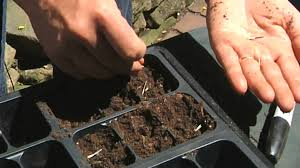 I assured her that would be fine.
"You know, Mom, marigolds take time to grow."
I had to smile. Yes, Jessi, marigolds do take time to grow ... and tea takes time, too.
It reminded me of a Hallmark moment from my past ... so I searched my lifelessons-mj blog to find the post.
Season after season ... some lifelessons remain the same.
Watching the Hallmark Channel...while I am cleaning out drawers in the kitchen...
Commercial comes on...it's about a father & a daughter....
The card he gives her says:
From This Seed
That Can Not Be Seen....
She says: Do you really think so?
He says: I know so.
Sigh
I know I'm not supposed to.....and it makes everyone else angry & upset with me when I do....but....
I really, really miss my Dad.
(c) lifelessons-mj.blogspot.com